What is a Real Property Report and Why is it Important?

A Real Property Report (RPR) is also known as an Alberta Land Surveyor's report. An RPR is an important part of the sale process as it is used to determine the property dimensions and ensure there are no encroachments or property enhancements that are not permitted by the city, town, rural county, or municipal district.
It is important the seller provides an up to date RPR that shows all the property improvements and has a stamp of compliance from a governing district body. The purchase contract we use in Alberta, states the seller is to provide the buyer an up to date RPR with a stamp of compliance.
If you have a recent RPR on file and no changes have been made to the property that aren't already reflected on the property, it may be sufficient. If not, you may have to order a new one (or an updated one if applicable) prior to selling your property. This process could take up to 6 weeks so it is best to get started on this during the pre-list phase. If you've added improvements to the property in recent years that are not reflected on your current RPR and you're not sure they are compliant, it is best to check the municipal bylaws to see if they are within the constraints of what is allowable. Once your property is surveyed, if you find you have an improvement or fixture that is encroaching on a neighbour's property or onto city property, you can apply for an easement with the city, or possibly an encroachment agreement with the neighbour.
Another scenario that may happen is if you have improvements on the property aren't within the allowable rules and regulations. For example, you've built a deck but when you get the new survey done it comes back stating the deck is too large and doesn't comply with the bylaw. In this case you have two options. You can rebuild/renovate the deck to the proper standards to ensure it complies or you can apply for a relaxation permit from the governing body. If you attempt the latter, there will be an application process you'll need to adhere to. With the city of Calgary, you'll need to fill out the application, provide photos, and pay an application fee. The city will then advertise the relaxation request so that members of the community have the opportunity to object should they wish. If after the city's review is approved and there were no unanswered complaints, the city will issue a relaxation permit for your structure and give you a final stamp of compliance on your RPR.
If your property is a bare land condo, you'll still need an RPR. Conventional condominiums do not require this.
Below is an example RPR with a stamp/certificate of compliance from the City of Calgary. All land improvements are noted on a RPR including but not limited to: Concrete sidewalks and driveways, asphalt, wooden decks and stairs, sheds, garages, window wells, air conditioning units, fences, retaining walls, and cantilevers.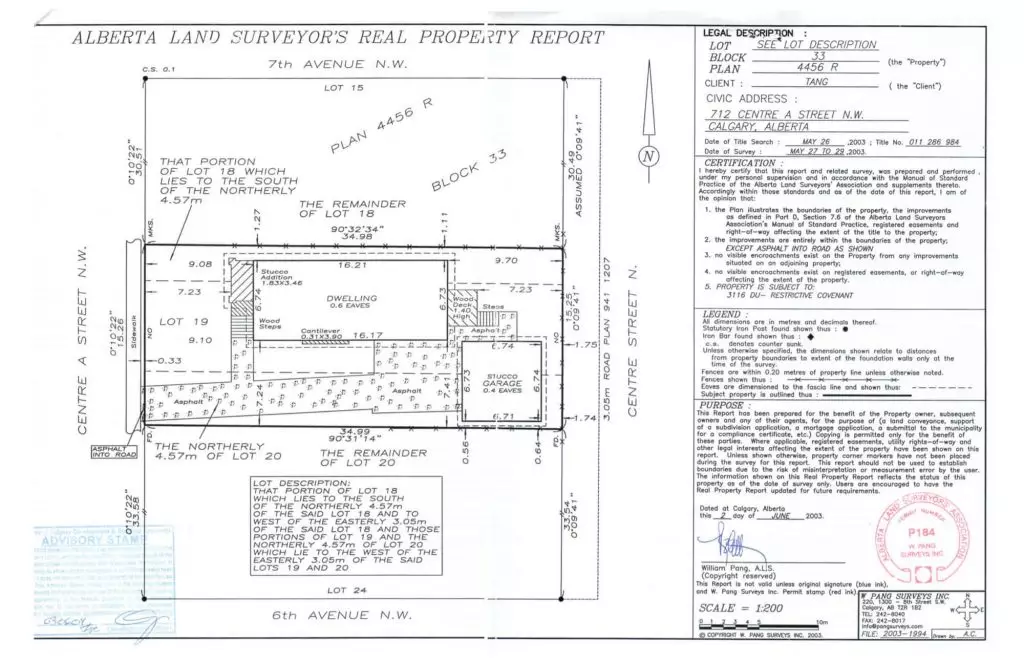 Alberta Land Surveyor's Real Property Report (RPR)
Do you have questions about ordering a new real property report? Do you have concerns with an existing one?
If you have any questions or concerns regarding your property improvements, or your current survey, please feel free to reach out to us, at AlbertaRE we are happy to help answer any questions and will do our best to point you in the right direction to ensure you're taking the right steps to ensure you are compliant and ready to have your home on the market.
Here are a four land survey companies you can contact that service Calgary and the surrounding area.

Lovse Surveys Ltd
4750 106 Ave SE, Calgary, AB T2C 3G5
Tel: (403) 254-2010
Fax: (403) 254-1723
Email: [email protected]
Click Here for Website
Global Raymac
Suite 312, 4000 4th Street SE Calgary, AB T2G 2W3
Tel: (403) 283-5455
Fax: (403) 283-5418
Email: [email protected]
Click Here for Website
Douglas Surveys Inc.
Suite 610, 1300 8th Street SW Calgary, AB T2R 1B2
Tel: (403) 228-7005
Fax: (403) 228-4144
Email: [email protected]
Click Here for Website
W. Pang Surveys Inc.
Suite 210, 5940 Macleod Trail S. Calgary, AB T2H 2G4
Tel: (403) 242-8040
Fax: (403) 242-8017
Email: [email protected]
Click Here for Website